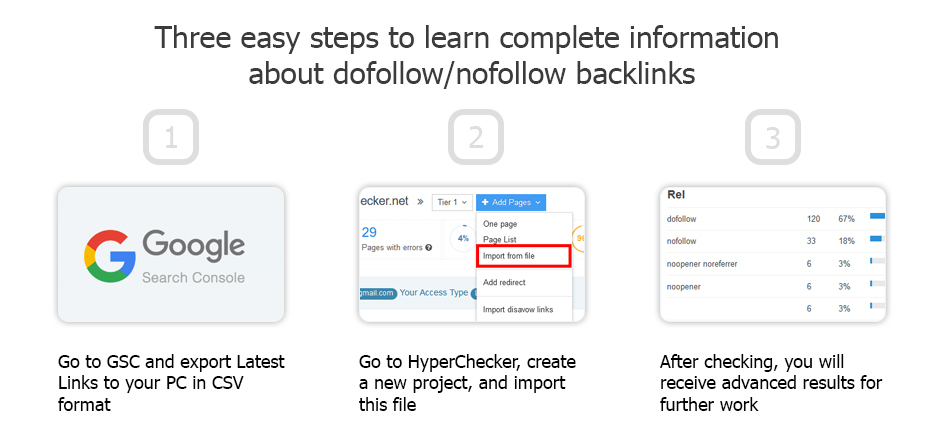 What Is the Difference Between Dofollow and Nofollow Links?
When a website links to another website, it can be done in several ways, with a dofollow or a nofollow link. Although both sorts of links accomplish the identical purpose of connecting the origin and destination sites, they send two different messages to the search engine.
Dofollow and nofollow links look identical to the ordinary website visitor. Nofollow links contain a little piece of code called an attribute that says search engine bots not to follow the link. At the same time, the default state for a link is dofollow. To put it another way, a dofollow link is one that does not have the nofollow attribute.
Why Use Our Bulk Dofollow Backlinks Checker?
If you promote your website through backlinks it is vital to check them through a dofollow backlinks checker on a frequent basis. There is a huge risk that links to the site's most vital pages will vanish without the linkbuilder even being aware of it. With the help of our dofollow checker you will know if the anchor has changed, the link has been withdrawn, or the page has been removed from the search.
How to Use a Bulk Dofollow & Nofollow Backlinks Checker Tool?
HyperChecker backlink analysis tools are easy to use. The user creates a new project and imports backlinks from tools like Ahrefs or Moz. A bulk backlink check performs automatically.
What's Included in the Report

HyperChecker bulk dofollow link checker tool offers a full user-friendly report, which is available in one place for your convenience. You will see the whole number of backlinks, anchors, nofollow and dofollow links distribution, and the recent changes to your backlink profile. You can also see a number and ratio of rel attributes, information about the indexing status of referral pages (allowed/prohibited; indexed/not indexed), etc.
Automatization of a Bulk Dofollow Backlinks Checker
HyperChecker connects to your Ahrefs account and retrieves relevant seo metrics instantly, after you import your backlinks from Moz, Majestic, or Google Search Console etc. Then the service automatically tracks backlinks to keep your data up to date, and sends the report to your email.
FAQs